CHIMNEY CLEANING & MORE IN BALTIMORE, MD
ALSO SERVING THE MONTGOMERY COUNTY AND WASHINGTON, DC, AREA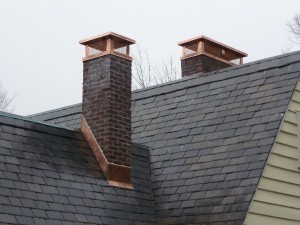 As a homeowner, we know that you want to do everything in your power to protect your investment, and more importantly, your family and pets. Annual chimney inspections and subsequent chimney cleanings play a vital role in preventing residential fires, carbon monoxide intrusion and other related hazards that can result in death or property loss.
The primary function of your chimney is to carry dangerous flue gases from your fireplace, wood stove or furnace safely out of your home. Without proper maintenance, deposits can cause destructive and deadly fires. Such fires burn explosively and produce a low rumbling sound that reminds some homeowners of a freight train or a low flying airplane.
Our professionals are trained to identify and fix potentially unsafe conditions that could lead to a dangerous or unhealthy environment inside your home. We employ an exclusive 12-point chimney inspection checklist and perform Level 2 inspections as a baseline.
We will use the ChimScan® camera when it's needed, providing the most detailed analysis commercially available today. At the end of your inspection, our team will happily review the findings of our comprehensive 12-point checklist with you.
In the Baltimore, MD area, count on Clean Sweep for:
Chimney Inspection
Brick Restoration
Chimney Cleaning
Gas Log Installation
Repair
Stove Installation
Caps and Dampers
Class "A" Chimney
Linings
Fire Box Repair
Flashing
Custom Chase Tops & Caps
Because of the dangers associated with fires and carbon monoxide intrusion, it is recommended that you have your chimney inspected and cleaned by a professional at least once a year. Seasonal chimney inspections are also recommended to ensure that there is a safe barrier from pests and that no animals have built nests in the flue or otherwise disrupted the structure. The National Fire Protection Association Standard states that:
"Chimneys, fireplaces and vents shall be inspected at least once a year for soundness, freedom from deposits, and correct clearances. Cleaning, maintenance and repairs shall be done if necessary."