GUTTER REPAIR AROUND BALTIMORE, MD
ALSO SERVING THE MONTGOMERY COUNTY AND WASHINGTON, DC, AREA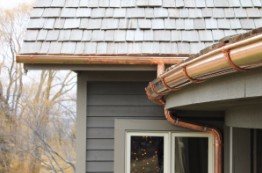 In addition to professional chimney services, our trained experts are equipped to handle all of your gutter installation needs, from a minor downspout or gutter repair to a complete exterior renovation. We will work diligently to keep your gutters clear of debris and your downspouts functioning properly.
Gutter cleaning is one of those tasks that homeowners tend to let fall by the wayside, but your roof's gutters must be maintained if you want to avoid nasty and expensive surprise repairs. It may be tempting to try and tackle this to-do without professional help, but it is not wise.
Gutter cleaning is truly risky and accidents happen. According to the Centers for Disease Control and Prevention, "Falls remain a leading cause of unintentional injury mortality nationwide, and 43% of fatal falls in the last decade have involved a ladder."
The DIY risk outweighs the reward here, folks. Leave the heights, ladders and tough stuff to us. Gutter cleaning is especially important for maintaining the integrity of the foundation of your home. Gutters that are clogged with debris can result in:
Roof damage
Water overflow that rots wood fascia around your home
Basement flooding
Dangerous mold seeping into your home
An accumulation of standing water that attracts disease carrying pests like mosquitoes and rodents
Damage to siding and nearby concrete features (driveways, aprons, etc)
In the Baltimore, MD area, count on Clean Sweep for:
Gutter cleaning
Gutter installations/replacement

Aluminum
Copper
Galvanized steel

Maintenance-free gutter cover systems
Guaranteed repairs
We serve the Baltimore, MD as well as the Montgomery County and Washington, DC area.